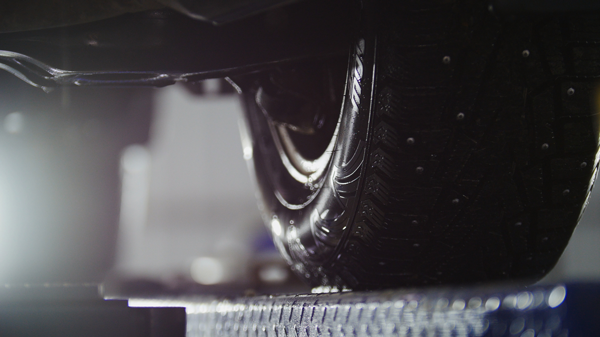 Tire Alignment Service at Halterman's Toyota
Even the most responsible driver may be missing one important service their car needs, and it's not their fault. It can be tough to pinpoint when your vehicle is in need of tire alignment - but the auto service experts at Halterman's Toyota can tell you for sure.
When your vehicle's suspension system gets knocked out of proper alignment, it can cause excessive wear and tear on your tires and lead to other problems you'd definitely rather avoid. You'll need a pro to get the suspension back on track - and when you have this simple service done at Halterman's Toyota, you'll see how quick, convenient, and affordable auto service can be!
Our service technicians will inspect your vehicle thoroughly and let you know if alignment is in order. If it is, they'll get the work done fast and have you back on the road in no time at all - without putting a big dent in your bank account or in your busy schedule.
At Halterman's Toyota, we value your time, your safety, and your money. That's how you know you can count on efficient, expert car care and reasonable service prices every time. We even offer a lineup of valuable money-saving service specials to help you save even more. With a service center like ours, there's simply no excuse to put off getting your vehicle back on track.
How Do You Know If Your Car Needs Alignment Service?
As we mentioned before, it can be hard to tell when alignment is in order. But the subtle signs - excessive and uneven tread wear on your tires, your vehicle's tendency to pull to one side or another when you're driving straight ahead - can clue you in and indicate when it's time to bring your car in for an inspection.
You can trust the assessments and recommendations of our auto experts because, just like every other team at Halterman's Toyota, their number one goal is your complete satisfaction. They won't try to push parts and services you don't actually need, and they'll tell you exactly what your car needs to perform at its best, safest, and most efficient.
Schedule Alignment at Halterman's Toyota
When auto care is as easy and affordable as it is at Halterman's Toyota, you'll find yourself running out of reasons to avoid taking your car to the shop. And that's a good thing! Being proactive about car care is the best way to keep your vehicle running well for miles to come and to protect yourself, your passengers, and other drivers who share the roads.
Schedule service today and then trust us to take care of the rest. The peace of mind comes free of charge.