The 2021 Toyota RAV4 or the 2021 Honda CR-V?
Trying to find a quality vehicle is difficult in today's day and age. First, you have to do some research, maybe talk to some friends, look at online reviews of vehicles, do more research, visit multiple dealerships…the hassle is relentless! But, we have a solution for you! Here at Halterman's Toyota, we like to take the hassle out of car buying! We have gathered some information here for you about the 2021 Toyota RAV4 and the 2021 Honda CR-V to help you make a more informed decision when choosing between these two vehicles. Let's take a look at what we found!

Which is more powerful: The 2021 RAV4 or the CR-V?
When it comes to power, you want to make sure you are making the correct decision. You want something that is reliable and will get the job done. So, let's take a look at the 2021 Toyota RAV4 first. This vehicle has a 2.5-liter four-cylinder engine with 203-horsepower. It also comes standard with front-wheel drive, but all-wheel drive is available at an extra cost. The features of the 2021 Toyota RAV4 are amazing. But, in order to make an informed decision, we should compare that to the 2021 Honda CR-V. This vehicle has a 1.5-liter four-cylinder engine with 190-horsepower. This vehicle also comes standard with the front-wheel drive.
When it comes to power, the 2021 Toyota RAV4 edges out ahead of the 2021 Honda CR-V.
What features do the 2021 RAV4 or the CR-V have?
With the ever changing importance of features in vehicles in today's market, it is important to take a look at what these two specific vehicles have to offer. In the 2021 Toyota RAV4, some of the features include a JBL Premium Audio System, which is great for those short drives and the longer road trips. It also has an estimated 27 City/35 Highway MPG rating. Finally, another point to note is the standard 7-inch touchscreen infotainment system.
In the 2021 Honda CR-V, the features include speed sensitive volume control to help the driver maintain contact with the steering wheel. This vehicle has an estimated 28 City/34 Highway MPG rating. Another feature worth noting is the 6-Way Manual Driver Seat Adjustment, making sure that the driver maintains comfort and control of the vehicle.
Knowing the features available in each vehicle are important to a well rounded decision!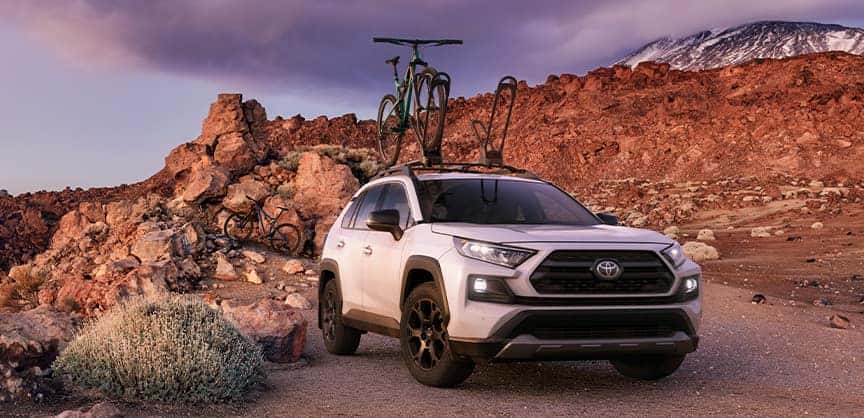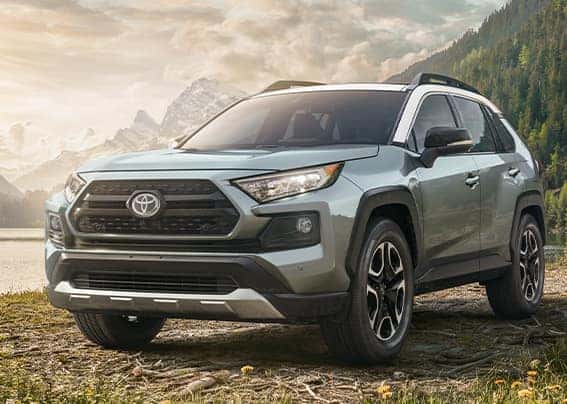 Tell me about technology and safety in the 2021 RAV4 and the CR-V?
Today's drivers across the nation want their vehicle to be a seamless part of their life, and to have the systems and features to stay connected at all times. This includes having power for electronics, connectivity to listen to the latest music and podcasts, and much more in the way of comfort and convenience.
Both the 2021 Toyota RAV4 and the 2021 Honda CR-V have great connectivity, capable of connecting with your smartphone and making it easy to utilize the technology at your fingertips. Technology isn't just about comfort – it's also about safety. Both the RAV4 and CR-V use the latest in safety technology to make our rides safer. The RAV4 offers technology like Pre-Collision System with Pedestrian Detection, Lane Departure Alert with Steering Assist, and Dynamic Radar Cruise Control. Whereas the CR-V offers technology options like pre-collision safety system, lane departure warning with accident avoidance system, and emergency braking assist.
Having knowledge of both technology and safety can help you make the best decision possible.
Which vehicle is more comfortable and has more utility options?
Driving in comfort is important to all drivers and making a decision without taking comfort into consideration would be a big mistake! Both the 2021 Toyota RAV4 and the 2021 Honda CR-V provide comfort features that even the most picky of backseat drivers or annoyances won't have something to complain about. The 2021 Toyota RAV4 has features available like a shelf that spans the length of the dash, rear seating that easily stows and folds flat allowing for more cargo space, and 5-passenger seating with SofTex-trimmed seating surfaces. The 2021 Honda CR-V has features that include remote keyless power door locks, an overhead console with storage, and seating for 5 passengers.
Not forgetting about comfort is important and using the information provided should help any driver make an informed decision!